Friends! Family!
Last updated: November 10, 2020
Please listen to our quick message! We want to tell you about Perpetual Education!
Please watch 👀 this quick video
(video transcription – if you're on the bus with no headphones or hearing impaired)
(more info below!)
Now…
How to get involved
There are a few simple actions to take:
Watch the promo video and look at the home page to understand what Perpetual Education does and what we stand for.
Call/email people who you feel are good candidates and tell them about what we are doing and why you think they would be a great designer/developer. Get paid for matches.
Post this link anywhere you feel will help expose candidates to our program: https://perpetual.education
Consider those already in your organization who may benefit from further education.
Do you have a web design project and would like to have it completed by our students at a reduced cost?
+ a few more…
(specific details below)
Watch the promo
It's just 1 minute long. You can do it! HERE → https://perpetual.education
We don't expect you to watch all the videos on the home page, but what you can take away – is that Perpetual Education is a school. Our first and flagship course is called Design for The Web. It teaches "web design" in a way that Computer Science or Graphic Design colleges can't – and it isn't a quick technical trade-school like the coding 'boot camps.'
Our primary goal is to produce confident and thoughtful designers to enter the workforce. We believe there is a great need to rethink the school system and to create a community of integrity and responsibility for what we bring into the world.
It's in all of our best interests to train programmers and designers. They will be building the things we'll have to live with going forward, and it's imperative that we go beyond the 'code' and educate people to act as gatekeepers.
If all this 'techy stuff' goes over your head, consider watching The Social Dilemma or reading Ruined by Design. This isn't just about some 'nifty' websites. The internet is our most powerful communication platform – and with that comes a lot of responsibility. Sounds serious… but we make sure it's super fun!
Our class sizes are small and they are tight-knit mentorships that build real client projects and help people discover where their passions lay in the design process.
Identify the people
Pick out some people – who you trust – and who you'd like to see designing the websites and web applications. We need better designers to build things like our healthcare, banking, government, social services, and education systems. This is for people of all ages and backgrounds.
Maybe they live in your house. Watch the video with them. Call them on the phone – or write them an email and tell them that you think they'd be a great designer. Tell them that your friends have built an exciting school – and that they should check out: https://perpetual.education AND Derek recently put up this general "intro to tech" guide: https://intrototech.net – which will help people understand the industry and help them get their footing (not just for our school)
Tell them that YOU sent them – and to give your name and email address on their application – and we'll say thank you with our gratitude – and money: https://perpetual.education/get-paid-to-match-students
Share generally
Any way you can get the word out is great. Do you have a mailing list? Newsletter? a Facebook group, or Instagram account. Maybe you can just take a picture of the website and say "Hey! Interested in Design and Programming? Well, check out this exciting new school!"
Drop the https://perpetual.education URL in Facebook or LinkedIn or Twitter etc and it'll bring up a nice image and a link for you. Then just say something like:
"My friends built a new school for design and programming! It looks great! Pass it on!"
or something to just reinforce what it is. (You can totally just delete it a few days from now.)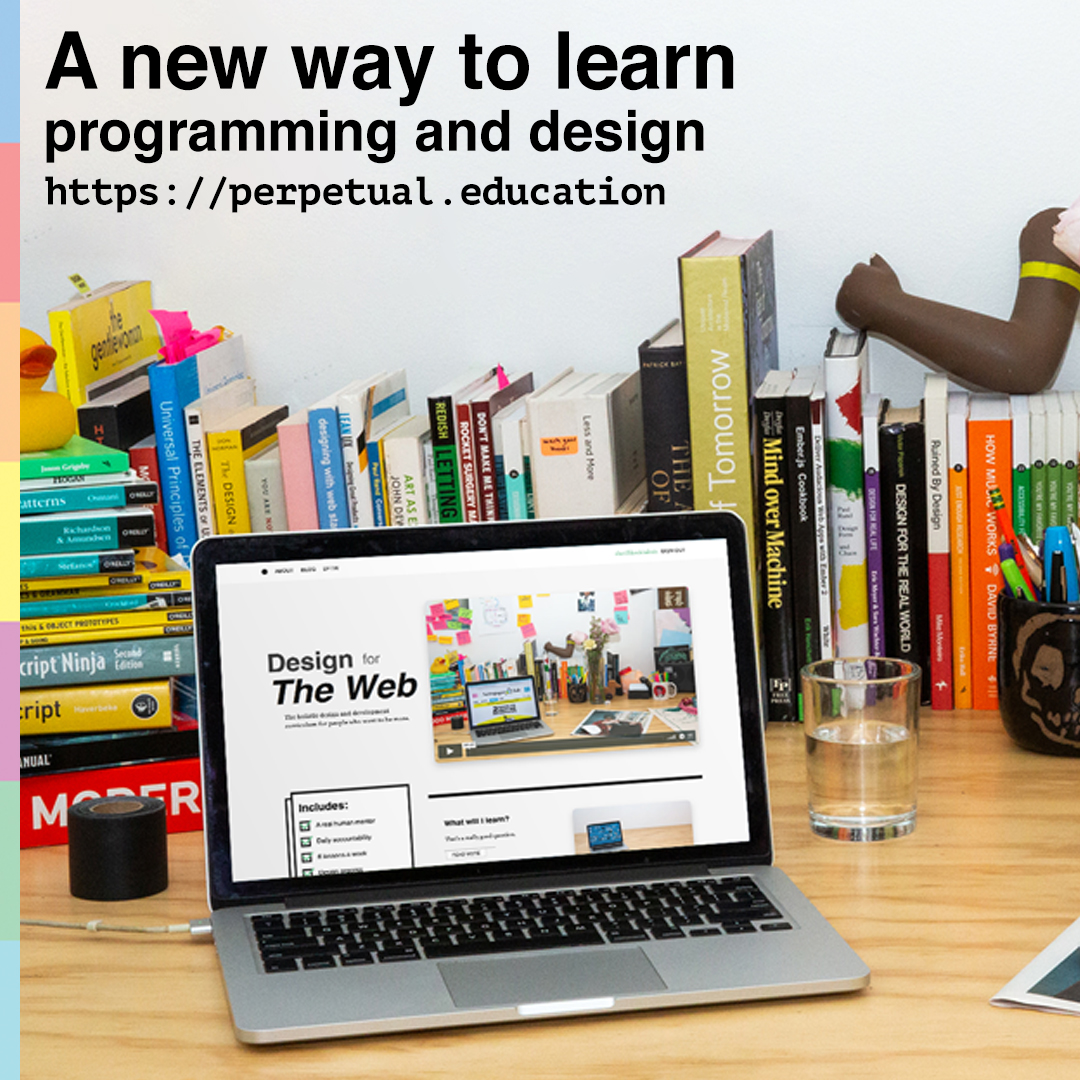 (hold this image down – and save it to your phone – and then you can share it on instagram for a few days)
You can also just forward the email we sent you to 10 people. Say:
"Hey! My friends built this new programming and design school. Pass it on to someone you think would make a great designer!"
Toss this "intro to tech" guide: https://intrototech.net out there. This industry needs 20, 30, 40, 50, 60-year olds! and probably even a few 102-year olds. It's not just for 22-year old men. This guide will help explain it in a way that everyone can understand / and break down the idea that this stuff is always about 'math' and technical stuff. Design is about PEOPLE. (we just use computers to do the boring stuff)
Consider those under your employment
Do you have a staff that does internal design work or maintains your websites? Would you like one? Are you currently paying contractors? Is anyone on your staff in a position to pivot, get trained up – and bring those tasks internal? Consider offering higher-education. It might save you a lot of money – and build a stronger team.
Apply to have your project built by our students
You know how you can get your hair cut at the student hair academy? This is kinda like that, except – we will not cut your hair… and instead, you'll have an entire design team work on your design project. We'll be explaining this in more detail – but you can read about that here: https://perpetual.education/high-end-websites-at-reduced-prices/
Be our guest for an interview
Most of you – are "Designers" whether you see it or not. Some of you are crafting characters as actors. Some of your design and build furniture, paintings, muppets, animations, team-work, menus for restaurants, and all sorts of things. Some of you design personas for bands, or – plan tours and marketing. We are ALL users in the "User Experience" sense – and we all have a story to tell about the things that we interact with. Many of you are teachers – librarians – and people who care deeply about maintaining and sharing knowledge.
Consider coming on "The show" – virtually or in-person – and be a part of our curriculum. You'll get to talk about your work – and we'll get more substance. It's also really fun. So, win/win/win.
Donate your name/celebrity or help secure funding & scholarship money
A little "hey this is great" from the right people – goes a long way. It's easy – and free.
We will make you proud.
Do you have inroads to lower-income neighborhoods or community organizations that can help us get underserved people involved in a program like this? There are many ways we can reorganize the tuition to ensure that everyone has an opportunity to take a course like this. If you want to hear our ideas – or have some of your own, let's talk. We'd love to train up other teachers to carry the mantel.
Any other ideas?
These pages are all living documents – and we can add things and improve them! Do you have any ideas we didn't' think of? Help us prove that in the year 2020 – we don't need Facebook to be able to run a business.
Can you dig it?
Let's talk about it! We can have coffee – or a cocktail over a nice video chat and tell you all about it. And if you want to keep up with our progress, join our newsletter for occasional stories.
📺 VIDEO TRANSCRIPTION 📺
(in case you're on a bus and don't have headphones – or if you have hearing difficulties)
Hello!
We trust that you are all well!
We miss you!
Some of you have gotten married – or had babies – and published books and put out amazing records! and we're missing it!!! (too many to link to here)
One day – we'll get to see you again…
What
For now: hear this: as many of you know, we've been heads down working on an exciting project for – what – 2 years? Yeah – it's probably been 2 years if you add it all up…
And we're ready to tell you about it.
It's a school!
It's a design and programming school!  (it's this website!)
Our school is called "Perpetual Education" and the flag-ship class is called "Design for The Web."
We know….. That there is a crazy "Course" freak-out – and the big marketing thing right now is "make a course" – and there are courses about making courses… and yeah. It's a whole thing…
This isn't that type of thing. This is serious business. We're teaching the entire design and development process from idea to completion – in a completely different way than any other school.
Please take 1 ½ minutes to watch the video on the home page to get the gist of it. (We can't explain it all right here)
What we'd like to ask of you – is to help match us up with students. Our first official round of students are going to be our proof! and they'll get tons of one-on-one attention / and well, is going to be really fun. We only take a few small groups a year / instead of 10 thousand students.
Why
This industry is spitting out businessmen and "coders" right and left – and they're taught that their goal is to make something people want – get them all to sign up – and then sell the company to the highest corporate bidder to farm the data and manipulate the public… and a lot of not so great stuff.
Well… it does sound a little dark… but- it's true!
No one is teaching how to take responsibility for what we put into the world.
We need more diversity in tech ASAP – and we need a deeper / more holistic education path – so, we built it.
We're going to be stuck with the things that get designed – and well, it's in our best interest to train up good people to do great design.
What to do
We know it's a lot to ask – but please — take 15 minutes and brainstorm for us. Who can you pass this on to?
Your nerdy computer brother?
What about your cousin?
Are you a business owner who wants to invest in your staff?
Do you want to pivot on your current career?
Your sister? Maybe it's you?
Where are the problem-solvers?
Was someone thinking about going to college – and now isn't so sure this is the right year?
Do you have a podcast – or some platform where we can strike up a fun deal?
Want a scholarship in your name?
Got an inroad for community building – and some ideas on training up people from underrepresented communities?
Do you have some web design projects in mind?
Design-thinking is a future-proof skill. It won't be computers one day – but the principals will be the same.
Who do you trust? Who do you want to help empower to become a designer — because / you know that frustrating banking app / or that terrible website / or that hospital software / or that software that drives your car ??? — Did you watch the movie "The Social Dilemma" / what about what your kids see online???
Share it where it makes sense. Just drop that link a few places and tell people there's a new holistic design/programming school that your friends built – and we're now officially accepting applications. You can copy one of our Instagram posts and cross-post it – if you like. Just sharing this link is really great, but really picking out a person and reaching out to them is even better. Send them an email. Call them on the phone. There is someone in your life – that should be designing the things.
(our social stuff is here if it's useful: https://perpetual.education/social )
It would really mean a lot to us – if you spent a few minutes of your day helping us get this thing off the ground.
Word of mouth – and "finders fees"
We've decided to stay away from traditional digital advertising. Instead, we are using a finders-fee-type word of mouth. So, we'll pay you for student matches – and more / because the students build real client projects – and you could be that client and get a crazy deal on some design work…
https://perpetual.education/get-paid-to-match-students
We miss you.
We're always up for a zoom glass of wine!!! and a game of CodeNames.
We miss you. Thanks for reading this… and – yeah. We'll see you in the future!!!!!!!