Choosing a domain name
Last updated: November 7, 2022
Introduction
Let's see…
So far we've just kinda worked through this on a person-by-person basis – but it's time to make some official resources for it.
What is a domain name again?
Well, it's the name of your DOMAIN (insert bone font for dramatic effect).
OK OK. It's the human-readable address (URL)  that points to the Internet Protocol address (IP) that directs requests to the computer where your files live. Right?
Some very cool domain names are:
That https:// is kinda assumed by the browser because that's the HyperText Transfer Protocol that we're adhering to – to make the request. Some other protocols you may have heard of are ftp, pop, smpt, and imap .
Let's get really technical first so the next part feels easier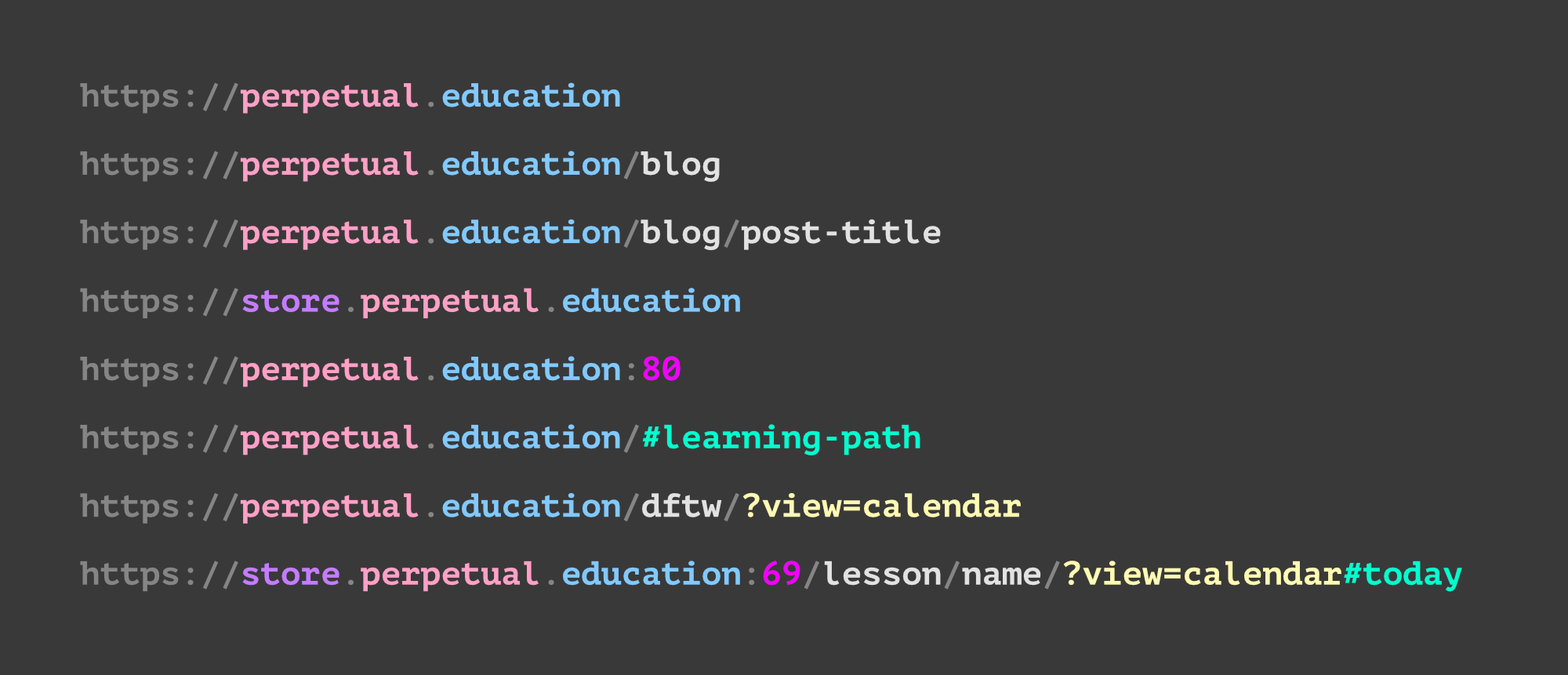 http://video.google.co.uk:80/videoplay?id=123&language=english#2m30s
Can you name all of these parts a URL?
OK OK

You just need to worry about these parts.
The combination of
domain name + top-level domain name = "root domain"
(we never really need all these terms unless that's your job to work in that domain)
It's a "URL" OK?
Finding, buying, and forwarding
Ideas on how to pick a name?
We'll work something out here… to help
.com .net .dev .design .info … what else?
Your name .net  feels pretty good. "Network" – But names can be pretty long
Your name  .dev  – because / you're a developer, right?
The handle you already use on social? + .dev or .net ?
Some people like .io  – because of the "In / Out" which is computery and musicy  (but it's owned by another country and can be expensive)
… What are names you like?? Tell us –
Subdomains?
Why – and how…
Transferring domains
If you already have a domain name – or hosting from some other projects, that's cool. You can keep it there – or we can talk about how to move them if you want too.
Email at your domain
You might want to have
derek@derek.com
Wait… that's redundant… but…
You could have hi@mysite.com or any amount of emails. We'll show you how when it's time.