Getting outside feedback
Last updated: June 24, 2022
Introduction
The more feedback you get – the more you will learn. The less you get – the less you will learn. And you can't really afford to not be learning all-day every-day right now.
Not all feedback is useful in of itself. Oh! Another thing to learn about! How do you know the difference? Some people are just not educated in this domain. Some people are downright mean. Those are all things you need to learn to navigate ASAP. All the feedback will be interesting.
Here are some relaxed places to poll for thoughts.
What feedback do you want?
The more general you are – the more general your feedback will be. The more detailed you are – the more focused the feedback will be. Both angles are good for their own reasons.
URL

You know what that is! But also – just as a reminder – you could write mywebsite.com (and add the link) if you were trying to avoid a visible peprojects.dev/alpha-4/username/projects/project-name type thing. But that doesn't matter, right? Also – get your own dang domain already!

Purpose

What is the point of this website? Is it a personal portfolio? Well – what's the purpose of that? The goal of that – would be to get a job. Or hold place and act as a neutral way to contact you while you area learning.

There's always some goal. It could have been just a practice project to get better at a certain skill or it could be a store or whatever you what.

Figure out the goal – and be explicit. That's the only way it can really be critiqued. It's either doing its job or it isn't.

Technologies Used

These only really matter if they are connected to what feedback you want. This isn't that technical of a forum. That might be more important for "Showoff Saturdays" but you can tell them it if you want.

Feedback Requested

What types of things are you interested in? Fonts, space, colors, layout, content/story, different screen sizes, accessibility, the code, the feelings it evokes…

We can help you game this out in the chatroom too.

Comments

Optional. Any other info you have to help them give you the best feedback. Is something broken? Note that – so that it's not a focus of their review. Did you have a few options or ideas that you were thinking about?
Showoff Saturday on Reddit/webdev
Coming soon…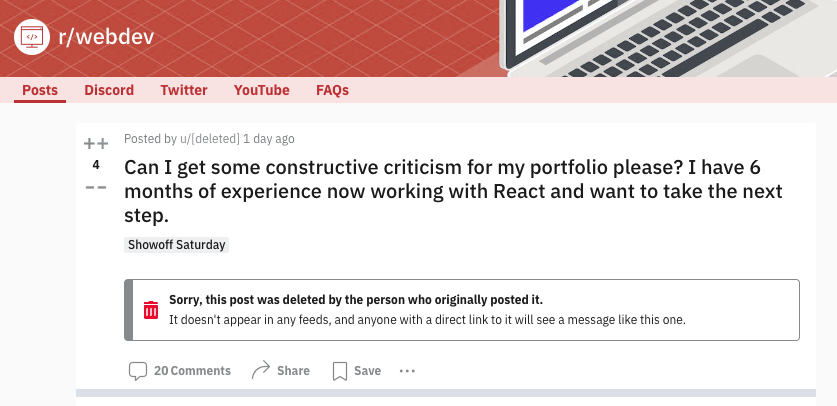 Don't be this guy. People spent tons of time helping him and then he deleted his post / which is not helpful to anyone else now.