End of day routine ideas
Last updated: January 11, 2023
Introduction
When we're in the zone – it's no time to categorize and organize our junk.
But on the other hand, it's never a good time to try and untangle a huge mess.
Maybe a little daily cleanup would save future you the trouble.
This happens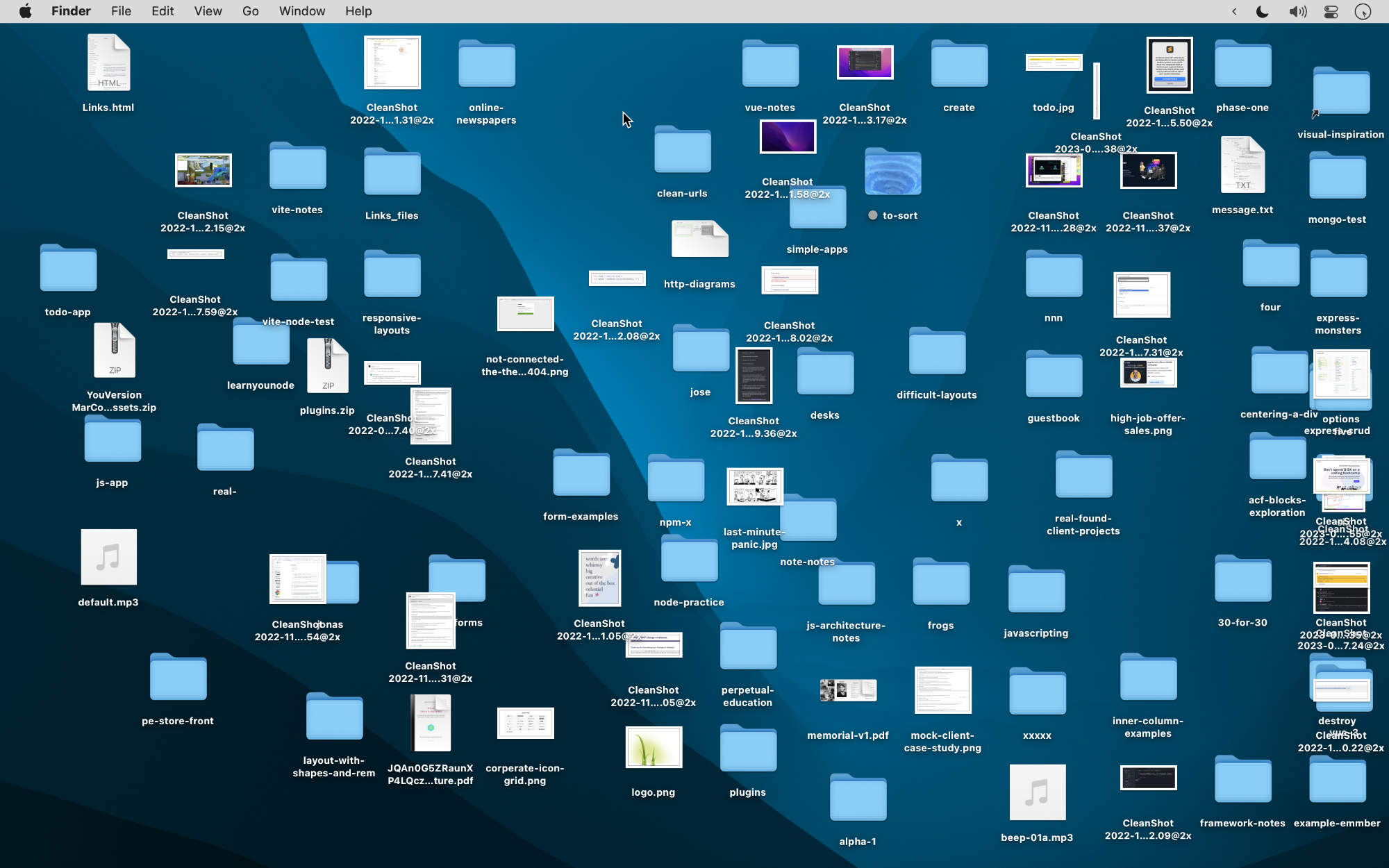 But it doesn't have to!
When you're bouncing around and learning and excited, we certainly don't want you to switch gears and refocus to organizing things.
However, when the day is done – how about you spend 3 minutes processing the new files (just like inbox zero).
Temporary? (like a screenshot you shared in slack?) –> Delete it!
Visual inspiration? –> Drag it to your visual inspiration folder
Affinity file? (should be in the cloud – not on your desktop)
Something important? (should probably be in your daily journal or Drive doc/folder)
Spend the moment to name anything you're keeping
If it's something you're saving for someone else – just send it to them and then delete it
Don't be afraid to just delete the things (remember – your web-dev skills are like a Genie that can always make anything you want again)
If you really can't let go of some things – then at least group them into a folder and name them as best you can and drop them into a "sort me" folder.
Do it for future you!
A spoon full of sugar
How about you put on a song you like? It's probably about 3-4 minutes long. Or – maybe you put on a record and use that to fade into a non-working mode (while using the first few minutes to tidy up!)
The day is done. You write your little journey entry and push it up to the cloud.
Then you start the song and do a little clean up and who knows!? Maybe it'll work.