Free high-level introduction crash-course
Posted: June 16, 2020 - and - Last updated: June 28, 2020
Find out if web development is right for you in under 2 hours
We need more designers now!
How it will work
This is what we consider a 'crash' course. Dive in!
Get a short overview of how a modern design team works in this first short video.
(< 20 minutes)

Take a look at how content strategy turns into web pages and how we style those pages. Take a look at what it's like to program on the job.
(~1 hour)

Talk to a real human designer who has been mentoring people for years, and who can help you decide what path is right for you.
(< 30 minutes)
Introduction
If that is exciting, check out a high-level overview of some real programming work by watching Derek go over one of the industry's most common confusions: "responsive" images.
@sheriffderek wanted to learn how the Scrimba system works and accidentally created a video that works well as a high-level HTML and CSS crash course. These are the thought processes you might have on the job as a programer – and some things you'd need to consider as a visual designer.
(You aren't expected to understand most of it) – but, if you watch it – (it's an hour and a half) – we think you'll have a really good idea if this 'coding' stuff – is right for you.
Here's the link.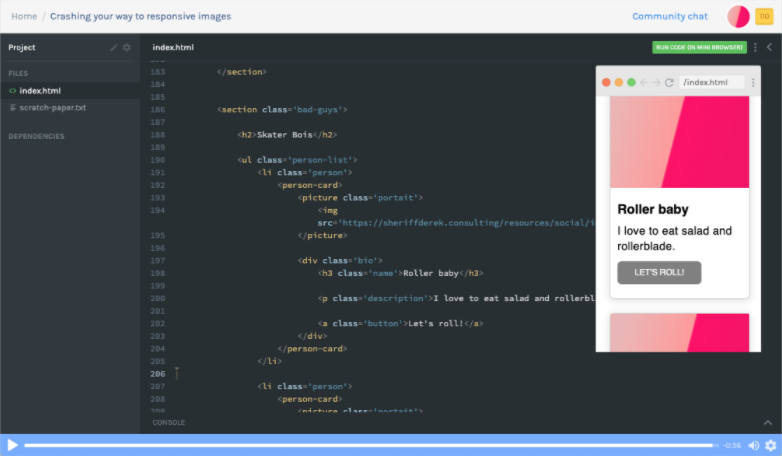 Here is also an example lesson from the course: https://perpetual.education/lesson/human-memory. The goal of this lesson is to set us up for success with early exploration of how our brains store and access data. We later relate this to how all the languages are essentially made up of key: value pairs.
Our course is made up of 144 of these lessons – which include daily lectures, videos, example walk-throughs, challenges, group projects, websites, applications, daily stand-ups and much more.
So, did you watch both of those videos?
Do you want to claw your eyes out – or does it seem exciting?
If you want in – you know it already. Trust your gut.
Book a meeting and let's talk about how to get you there.